How to get a Permanent Resident in the most welcoming country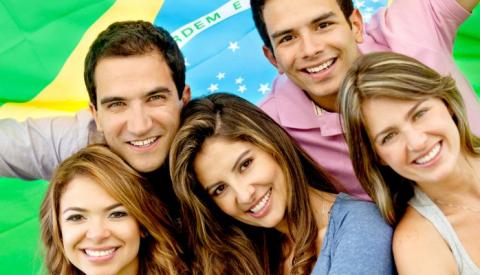 How to get a Permanent Resident in the most welcoming country
How important is the hospitality of a people when deciding which country to move to? It may or may not be a deciding factor depending on the circumstances. However, regardless of its weight on a decision, hospitality can make the assimilation process much easier.  
This is especially true of those migrating from the Middle East, who unfortunately face many prejudices worldwide. Many people are leaving the Middle East, conflict and strife continue to affect the region in several ways and there are many who are looking for a way out. We are currently witnessing a massive relocation of peoples on a scale which hasn't been witnessed since World War 2. 
One of the destinations for these migrants is Brazil and something that Brazilians like to pride themselves on is their hospitality towards foreigners. It's all too natural for most Brazilian to be willing to lend a helping hand to foreigners in their country. They are very communicative with foreigners and are always concerned with trying to make them feel welcomed.
Bassel Matar, a Syrian who moved to Brazil around a year ago told us - "Well, you will be surprised at how warm the Brazilian people are, it is very easy to blend in with the community - there is no "us vs. them" - they accept you regardless of your origin and they respect different cultures and habits even if they are not familiar with them. Once I got my residency visa, most of my Brazilian friends told me: "You are Brazilian now" and believe me, in most other countries you won't hear a similar phrase even if you spend most of your life there and even if you get citizenship."
Brazil has always had a diverse multicultural society throughout its history, this has resulted in a very open and tolerant society, accustomed to different ethnicities, cultures, and nationalities. This is especially true when it comes to migrants, Brazil has large communities from all over the world.

How can these migrants legally reside in Brazil though? 
There is a way of gaining residency which is not very well known, however very easy and straightforward provided that the applicant has some extra money saved up.  Many migrants are looking towards quick solutions, and it comes in the form of the investor visa. In Brazil, foreigners can become permanent residents of the country relatively quickly by making an investment of around USD $150,000 into a company that they set up in the country. This means that these people are essentially just transferring this money to their own bank account in Brazil, to be used by their own company for whatever they want...it's still their money. 
It's a straightforward program and a quick way to be able to get a solid, legal foothold in the country. Investors are able to obtain residency remotely as well, which makes this a very convenient option. Once residency is obtained, investors are also eligible to obtain Brazilian citizenship in up to four years. 
Like I mentioned earlier, this permanent investor visa option is not very well known, since it is not advertised by the government and not that many companies present it as a residency option. Despite this, it is starting to pop up under the radar of many people from the Middle East and elsewhere. 
Husam Abboud - a Syrian immigrant himself and one of the founders of Establish Brazil, a market-entry and relocation firm which specializes in assisting foreigners through various bureaucratic matters in the country - told us the following, "My team and I are very happy to be in a position where we are able to provide assistance to those wanting to relocate to Brazil. We just recently assisted the first Saudi national ever to be granted an investor visa in the country. We see this as a sign of things to come as more people become aware of such relocation options." 
Why would someone try to obtain residency in Brazil anyway as opposed to other countries? Cost is a huge factor. Getting permanent residency in Brazil through this investment program is much, much cheaper than similar programs in other countries. In the US and some western European countries the minimum investment of such programs can run into the millions in their respective currencies.
 Permanent residents are also eligible to receive a Brazilian passport after a maximum of four years. Brazil's passport holds a lot of weight internationally, its passport is consistently ranked among the 20 most "powerful" passports, giving its holders the ability to travel to over 146 different countries and territories without the need for a visa, including to many countries in Europe.
Last but not least, those who want the option of gaining Brazilian residency but are not quite ready to move in the near future can do so as well. The entire process can be done remotely and the investor visa holder does not need to reside in the country. 
All in all, Brazilian permanent residency is a viable solution for a lot of people seeking to internationalize themselves. For many others, the country represents a fresh start, a place that will accept them and welcome them with "aquele abraço" - a much needed attitude in the face of intensifying world events.