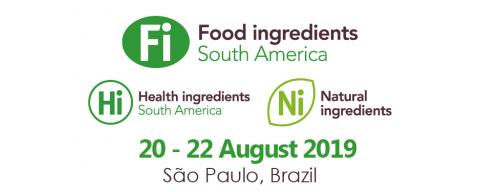 What is it
Fi South America is the most complete food ingredients event in Latin America. About us 84% Has high decision-making power 70% Of the visitors are from Latin America. Fi South America is the only event focused on food ingredients in Latin America and one of the most important events in the world for the food and beverage industry. In its 23rd edition, FiSA brings together more than 750 exhibiting brands and 10,893 highly qualified professionals, national and international from 45 countries, as well as debates that will address the main topics currently discussed in the sector.
Reasons to attend
Join the industry's premier meeting point, find the leading ingredients suppliers and check out the latest product innovations at Fi South America. Weight visitors, such as: -Nestlé Brazil - Application Manager -Italac - VP / Director -Mondelez International - Manager of P & DQ and Sustainability Latin America -PepsiCo - Senior Purchasing Manager -J. Macedo - Supply Specialist - JBS - Corporate Ingredient Purchasing Manager - Polenghi - Head of Research and Development - M. Dias Branco - Product R & D Coordinator - Marilan Alimentos - Process and Production Manager
Address
Av. Dr. Mário Villas Boas Rodrigues , 387 - Santo Amaro
Venue
Transamerica Expo Center
Organizer
UBM Brazil Feiras e Eventos Ltda.