Brazil as one of the TOP destination for retirement overseas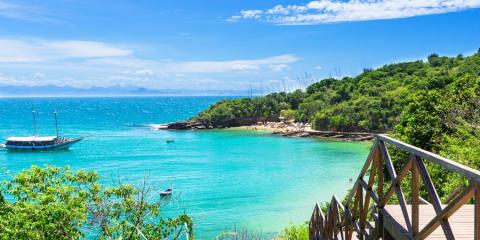 Brazil as one of the TOP destination for retirement overseas
Brazil is one of the most exotic, beautiful and diverse countries in the world. For that reason, it is not hard to imagine spending your golden years in this earthly paradise.
Considered as the largest country in South America and the fifth-largest in the world Brazil is officially divided into five regions: North, Northeast, Center-West, Southeast, and South. Therefore, thanks to its natural resources, Brazil represents a major force in terms of economic strength.
Life in Brazil is a lot cheaper than in the USA and its beaches, people, and cuisine will enchant you! According to the World Happiness Report from 2017, Brazil is 22nd happiest country in the world, ranked in front of Spaniards and French, for instance.
What are the benefits of retiring in Brazil?
One of the first things to consider is the relocation of property, and whilst in some countries, like the UK you may have to pay taxes for almost every item you decide to bring, when you retire in Brazil and become a resident, you are entitled to import your household effects and personal items free of import duties.¹
The second point to consider is the healthcare, which is guaranteed for both residents and foreigners by the Constitution. If you are legally staying in the country, you'll be eligible to receive a free healthcare. In case you want a higher quality healthcare, for around US$ 80 up to US$120 you can opt to pay for private insurance which will provide you with a better care shorter wait period.
Plus, anyone 65 years old and over can ride buses and the metro or use forms of public transportation free of charge. They can also receive discounts of up to 50 percent on things to do throughout the country, including movie tickets and entrance fees for entertainment venues.
Briefly, Brazil can be a very friendly place for retirees in general, which adds to the list of many reasons why expats choose to head this way.
Besides that, the Brazilian Government has international agreements with a myriad of countries², which allow retirees to receive their working and social benefits overseas.

How does the application for a retirement visa in Brazil works?
To obtain the retirement visa the government ask for presenting an evidence, as for example a pension or annuity, as well as to be over 60 years old.
You must also have a verifiable income of +US$2,000 per month to retire in Brazil, which will cover the main applicant plus two dependents. Therefore, if you plan on bringing more than two dependents, you'll need to show US$1,000 per month income for each additional dependent beyond the first two. It is important to note that there is no limit to the number of dependents who may also receive permanent residence visas.
Who is considered a dependent?

Unmarried children, under 18 years of age or older who are proven to be unable to provide for themselves;

Ascendants or descendants, with the effective need for support by the interested party;

A brother, grandson or great-grandson is orphaned, unmarried and under 18 years of age, or at any age when proven incapable of providing for himself;

Spouse or partner, in a stable union, without distinction of sex, Brazilian citizen or temporary or permanent foreigner in Brazil.
What are the best cities to retire in Brazil?
Brazil is really exotic, romantic, and diversified with different places to all styles and tastes. We made a list with 10 top destinations for retired foreigners.
Brasilia - Is the country's administrative center. The most attractive point of the city is its modern architecture and the artistic planning. The city is vibrant at night and offers a unique experience for all the newcomers.
Campinas - The city is filled with parks, botanic gardens, and natural attractions. The weather is pleasant with warm winters, while the summers are often rainy and vary between warm and hot. If you are not a nature person, you'll find plenty of other interesting things there, starting from the museums to historical landmarks.
Natal - A coastline city, has plenty of attractions which make it a desirable tourist destination, but the city's beautiful beaches are one of the major appeals. The climate of Natal is characterized by great humidity all year long and high temperatures, but the winds coming from the ocean help the temperatures to stay below extreme.
Salvador - Being one of the first Portuguese colonial cities in Brazil, this city has a rich history and culture. Besides its 50 miles of coastline and a unique charm, you'll get to enjoy an outstanding cuisine and art shows taking place all over the city.
Belem - A side of the city is modern and filled with skyscrapers, the other shows the colonial history with squares and churches. Located near to the coast of the Atlantic Ocean, you'll have no problems getting attractive beach destinations.
Manaus - The city is virtually located in the middle of the Amazon rainforest. There are no beaches anywhere near, but there are amazing natural landscapes like waterfalls and attractions that you will love exploring.
Florianopolis - Sandy beaches, waterfalls, resorts and lagoons. Also, It is a lot safer compared to other Brazilian cities. It is located on islands and ranks 3rd in terms of Human Development Index. It has the best Hospital to Population Ratio (hospitals compared to the number of inhabitants) and it is one of the most visited cities in the country thanks to its tourist potentials.
Curitiba - Also considered to be very safe. In various surveys, it was declared as the "best big city in Brazil to live in" and the "best city to invest in Brazil". Curitiba is highly regarded for its efforts to deal with pollution and poverty and is a model example of efficient urban planning.
Joao Pessoa - The city is labeled as the second "greenest" in the world thanks to its 2.7 sq. miles of forested land. It's one of the top retirement picks for Brazilians, especially those coming from Sao Paulo or Rio de Janeiro and the most popular city for expats to go and live abroad.
Fortaleza - Has high temperatures with humidity. Is "the second most desirable destination" in the country according to Brazil's Ministry of Tourism. Place of entertainment. From beaches, resorts, and parks to restaurants, bars, and nightclubs.
 
(1) *You must be moving to Brazil as a new resident, or as a returning resident who has been gone for more than one year to avail of this.
(2) *The countries who have this kind of Agreement with Brazil are : Argentina, Bolivia, Brazil, Chile, El Salvador, Ecuador, Espanha, Paraguay, Peru, Portugal, Uruguay, Germany, Cabo Verde, Belgium, Canada, Korean, Spain, U.S.A, France, Greece, Italy, Japan, Luxembourg, Portugal and Quebec.