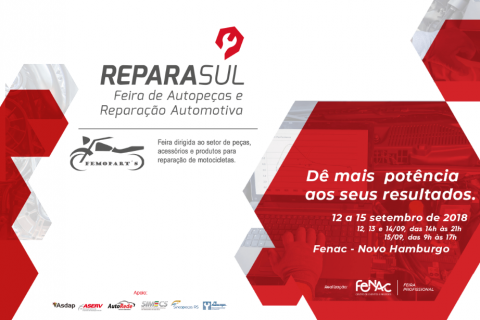 What is the event?
REPARASUL is a trade show focused on the entire chain of auto parts and automotive repair. The event will generate business and relationships between manufacturers, distributors and retailers of auto parts, equipment suppliers and services for light, heavy and commercial vehicle repair shops. Be one of the exhibitors and give more strength to your business.
Reasons to attend:
 
The automotive repair industry is experiencing a moment of opportunity. With an older fleet of vehicles, the maintenance sector grew by 7.9% in 2016, when the number of vehicles circulating in the streets of Brazil amounted to more than 42 million. The low demand for vehicles 0 km increases the demand for repairs and maintenance of cars that have been running longer. Currently, owners have taken nine years on average to change cars, so 75% of the cars they run are outside of the warranty period. In this way, the maintenance takes place outside the concessionaires, opening the opportunity for professionals in the repair and maintenance sector.
The fair brings together professionals with the objective of strengthening commercial relations and renewing the knowledge of this public:
• Entrepreneurs, directors, managers, buyers of retail trade and distributors of auto parts, mopeds and accessories (light and heavy line);
• Owners, directors, buyers and managers of Automotive Centers, workshops and automotive repair;
• Owners, directors, buyers and managers of Resellers and Dealers;
• Fleet and Transport service providers and others.
Venue
FENAC - Centro de Eventos & Negocios
Organizer
FENAC Feiras & Empreendimentos