NT Expo - Business on Rails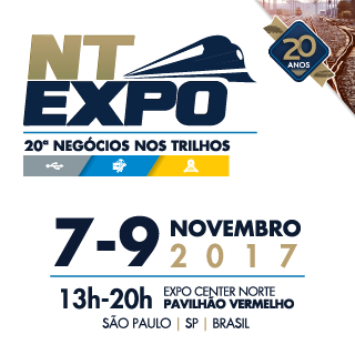 What is the Event?
The main event in South America for the metro-railroad industry chain which is focused on providing the most up to date information from the industry, debates and content generation through the scheduled conferences and Space Innovation + Mobility.
It is the stage of the largest business rounds in the area, bringing together the leading national and international suppliers, cargo carriers and passenger decision makers, leading the innovations, technologies and solutions presentations for the sector.
Reasons to Attend:
Main meeting point for companies of this industry in South America
Increase your chances for business opportunities and network with over 100 national and international brands gathered in just one place.

Find new suppliers, compare what's being offered and gain access to the future on rails presented in a 3-day event.

Get the most up to date information of the industry from the technical free seminars at the Space Innovation + Mobility.

Get to know the market trends, take part in discussions about the direction the industry is taking and the innovations in security, maintenance, engineering, and project through the NT Expo - Business on Rails conference schedule.
Address
Rua José Bernardo Pinto, 333 - Vila Guilherme
Venue
Expo Center Norte RedHall