38th Strawberry and Flowers Events of Atibaia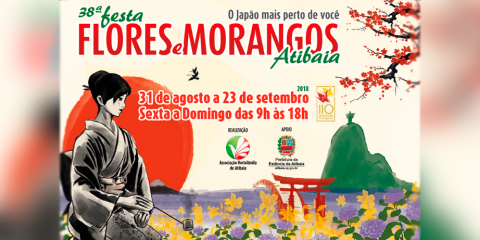 What is the event?
The long awaited Festival of Flowers and Strawberries opens its 38th edition on August 31 in Atibaia, São Paulo. In addition to an intense and comprehensive cultural scene, the Flower Festival and Strawberries Atibaia aim to promote regional rural production that stands out in the national market with the production of flowers and strawberries.
The event is held in the Municipal Park Edmundo Zanoni over 36 thousand square meters of green area around a lake with pedal boats, Natural History Museum, playground, Hall Artisan, and other attractions.
Reasons to attend:
Exhibition Pavilion
In the exhibition pavilion, the public has the opportunity to give a space of more than 1,500 m² all decorated with flowers. This year, theme of the event will be in honor of the 110 years of Japanese immigration, giving the public the opportunity to know a little of the Japanese culture portrayed in the environments.

Exhibition Pavilion
Sale of Flowers and Strawberries
There is no way to spend at the Flower and Strawberry Party and not take home the flowers and strawberries direct from the hands of the producers, for this the public finds two environments intended for purchase.

Sale of Flowers 
The first space is from Pró-Flor, the Association of Flower Producers of Atibaia, with many varieties, news of the sector and garden products. For Pró-Flor members, the Flower and Strawberry Festival is the opportunity to be close to the public and to offer the best in flower launches, there are more than 400 producers related to Pró-Flor, people who generate income and many families throughout the year.

Strawberries
In the second space (next to the stage of shows) the producers bring the famous strawberries of Atibaia recently harvested. The strawberries of Atibaia and region are recognized nationally for the quality and diversity of species such as Camino Real, Camarosa, Oso Grande, San Andreas and Albion.
Entertainment
On Saturdays and Sundays, the public can check out on the stage several cultural shows from countries like Japan, Brazil, United States, Portugal, among others. There are more than 60 presentations that take place on stage throughout the festival, in addition to the itinerant presentations that enchant the audience.

Congada Rosa
The taiko is one of the most anticipated presentations, the drum touches infect the audience and liven up the ambiance, even more, to know more about our concert schedule, wait for programming.

Taiko
The Flower and Strawberry Festival of Atibaia offers a complete structure for visitors, with access for handicapped people, wheelchairs, monitors in every event, public controllers, adapted toilets, access for the elderly, more than 50 toilets, stand medical and external security made by the Military Police and Municipal Guard of Atibaia.
The Flower and Strawberry Festival of Atibaia is an accomplishment of the Hortolândia Association of Atibaia, with the support of the City Hall of the Atibaia Resort.
Address
Av. Horácio Neto, 1030
Venue
Parque Municipal Edmundo Zanoni
Organizer
Associação Hortolândia de Atibaia